Emerging Artist Program
THE PROGRAM
For many years, the Stonnington Symphony's charitable trust (the Stonnington Symphony Artistic Development Fund) has provided the means for the orchestra to undertake a range of projects designed to extend and enhance the artistic life of our community.
In 2013, the decision was made to refocus the use of this fund into an ongoing program of support for orchestral artists of any form. The program is directed neither at the necessarily young, nor is it a competition in which we seek out "the best" artists. Its purpose is to best match the developmental stage of an artist, with what we as an organization, can best offer. This includes, but is not restricted to, rehearsal and performance opportunities, mentoring and advice in both musical and business practice and professional introductions, and has no upper age limit. Submissions are invited each year in particular areas of orchestral practice, the selection panel (which includes Artistic Director, Roy Theaker and General Manager, Alex Morris as well as members of the Committee of Management) then reviews each submission, evaluating the applicants understanding of their personal stage of professional development with the resources of the orchestra.
The sustainability model for the Emerging Artist Program is very simple: Any monies expended are derived solely from the investment income received by our charitable trust, The Stonnington Symphony Artistic Development Fund. In order to continue offering best-possible opportunities to the orchestral community of Stonnington and Greater Melbourne, it is necessary to build on the capital base of the fund, and hence the Committee of Management's decision to focus all fundraising efforts towards this end.
For further information, please contact our office on (03) 9510 5257 or by email to [email protected].
Donations to the Stonnington Symphony Artistic Development Fund will ensure we can continue to offer this program to the community for years to come. All donations of $2.00 and over are fully tax-deductible. Please consider making a valued contribution!
2017 EMERGING ARTIST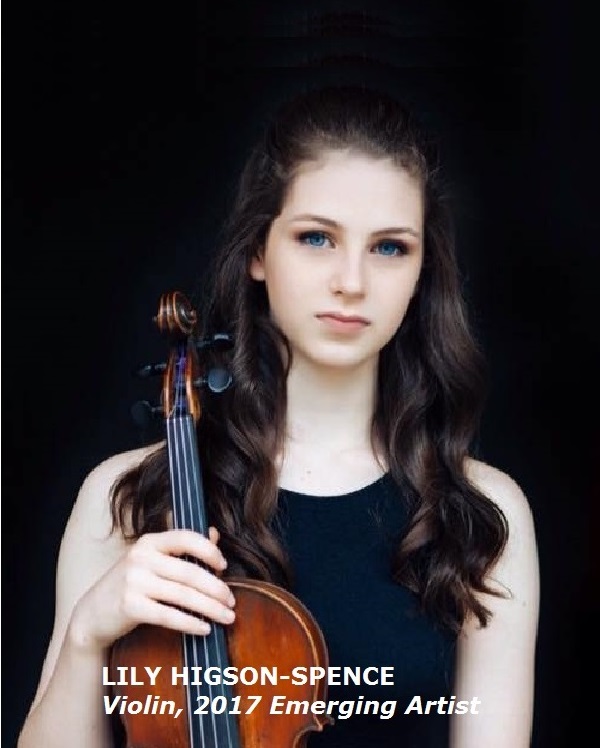 Violinist, LILY HIGSON-SPENCE joins our program in 2017. At the tender age of 18, Lily's achievements are already impressive, with numerous awards, scholarships, and significant performances to her credit. She is currently studying under Robin Williams at ANAM, as well as fulfilling a busy performing schedule both as a soloist and in several chamber ensembles.
In 2017, she will be performing as soloist in 2 of our 4 concerts for the year: In February she will feature in City of Stonnington's annual outdoor concert The Classics: Symphony, and in August she joins Artistic Director, ROY THEAKER and the orchestra to perform Prokofiev's Violin Concerto No.1. Parallel to her performances, Lily will also receive mentoring from Roy and other associated performers, as well as business mentoring, marketing guidance and media coaching, professional quality promotional materials, and numerous media opportunities.
2015 EMERGING ARTISTS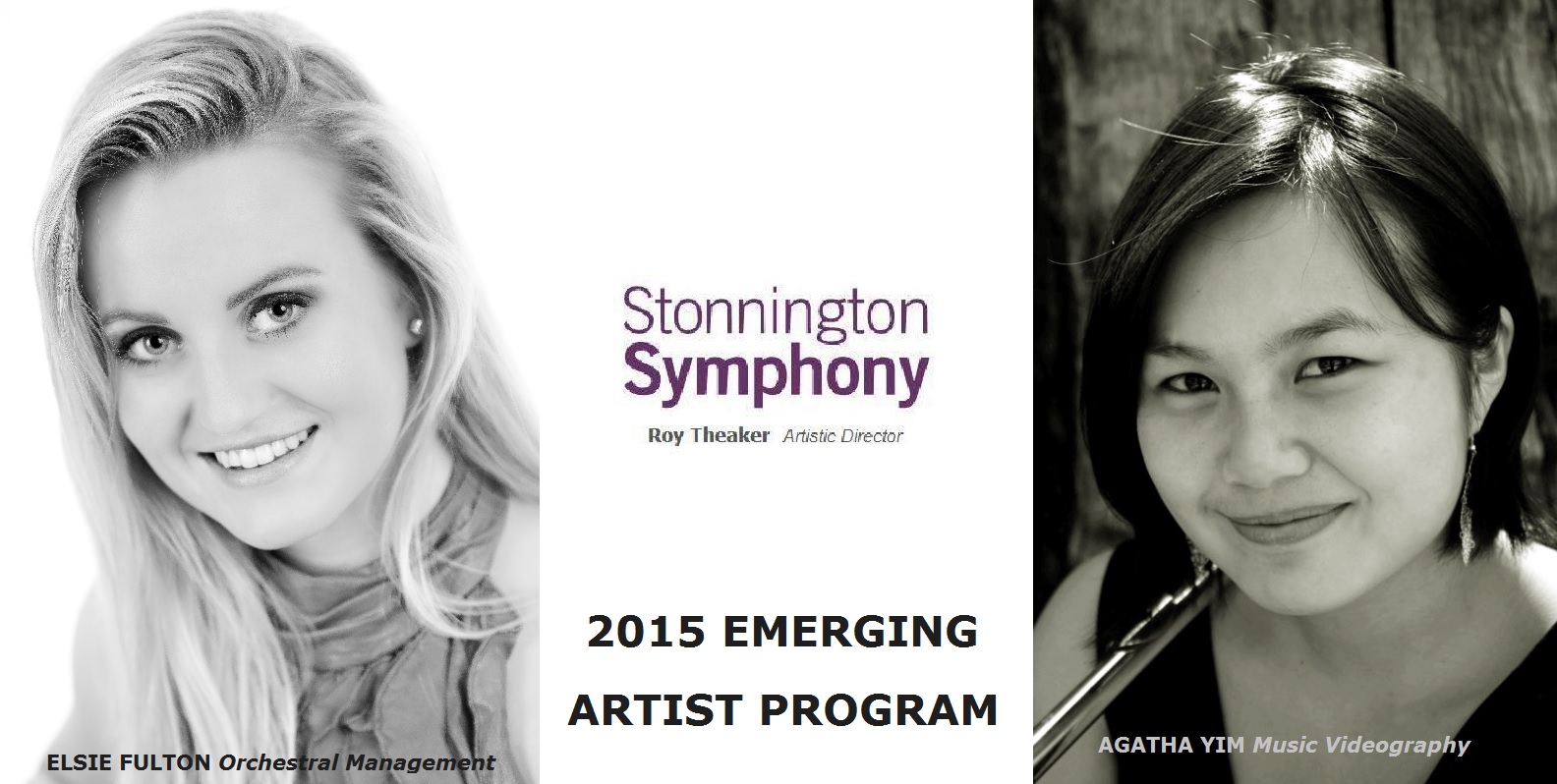 In 2015, we were pleased to venture into areas not traditionally incorporated in such development programs. Our 2 mentorees came from very different areas of the full spectrum that is the operation of a symphony orchestra.
ELSIE FULTON came to us as a trainee orchestral manager. Her experiences under the Emerging Artist Program included working with both the General Manager, administratively and on event days, as well as shadowing and assisting in the work of our production/stage manager. Since completing our program, Elsie was accepted into the Melbourne Youth Music Arts Management Training Program, has been involved in the 2017 Short & Sweet Festival as a member of the FXPonential production team, and acted as Assistant to the GM for The Classics: Symphony 2017. She has also graduated with distinction from Melbourne University with a Bachelor of Commerce, and recently joined the Graduate Training Scheme at KPMG.
Videographer & Photographer, AGATHA YIM came into the Emerging Artist Program as an opportunity to further develop her specialist skills in video documentation of classic music performers and organisations. Her "mini documentary" about Stonnington Symphony will be available online in the coming months.
2014 EMERGING ARTISTS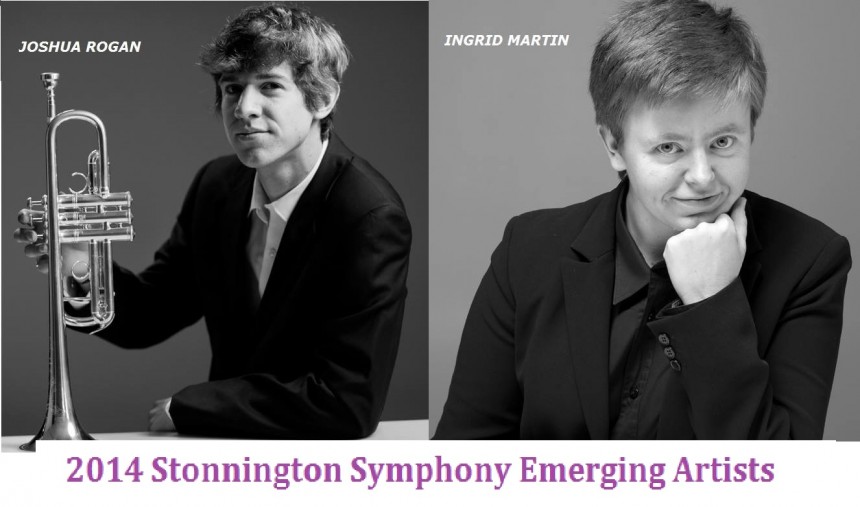 Our inaugural program in 2014 invited applications from conductors and instrumental soloists, the recipients were then invited to perform with Stonnington Symphony in the final concert of our 2014 Malvern Town Hall Series, which included musical preparation and rehearsal mentoring with Roy Theaker (who also conducted the performance), self-promotional advice and a professional photo shoot with Woodrow Wilson Photography, private coaching sessions with high-level orchestral musicians and business mentoring on subjects such as grant and resume writing with the General Manager .
Since completing the program, Ingrid Martin (conductor), has travelled to the USA as director of a concert tour with the Eltham High School Symphonic Band, received 2 new appointments as Director of ensembles in Melbourne, presented a paper at The Midwest Clinic in Chicago and continued her involvement with the Symphony Australia Conductors' Program -just to name a few items in her busy schedule. She appeared as a guest conductor in Symphony Under the Stars 2015.
Trumpeter Joshua Rogan not only astonished Stonnington Symphony audiences and players with his bravura performance of the Tamberg Trumpet Concerto in November 2014, he then took the Principal Trumpet chair in the second half of the concert for Mussorgsky's Pictures at an Exhibition. The apparent ease with which he mastered this extraordinary (both in terms of artistry and stamina) performance was impressive enough. More significant was the fact that it all took place on only his 24th birthday. As part of his performance preparation, Stonnington Symphony was able to secure 2 lessons for Josh with Sydney Symphony Orchestra Principal Trumpet, David Elton. Joshua's level of dedication and skill, along with his involvement in the 2014 Emerging Artist Program, helped secure him a 6 month contract with the Sydney Symphony in 2015. He is currently undertaking a Masters Degree in the US.